Product Details:
Description:
In collaboration with Jason Rudman of Ruds Shaves, Murphy and McNeil is proud to present our "Garda Síochána" shaving soap for a cause.
Between order and chaos, there resides a "Thin Blue Line".
Worldwide, Officers of the peace put their lives on the line to uphold the laws on which our societies are based.  These officers are in this way servants of and for the people, and sometimes we call on them to make the ultimate sacrifice to uphold those things which many of us take for granted.
This was the case for Officer Ronald Tarentino, Jr.
Officer Tarentino's end of watch occurred on May 22, 2016, while serving in the line of duty, in the small Central Massachusetts town of Auburn, MA.   He is now honored by his community and family through a charitable fund dedicated in his name and to the values he stood for.  The Officer Ronald Tarantino Fund exists to provide acts of kindness, generosity, and service to the community.  These are things that represent the legacy of Officer Tarentino, and further of our officers and first responders everywhere.  
Since 1923, the "Garda Síochána" or "Guardians of the Peace" have represented the Thin Blue Line in the country of Ireland, reminding us that service to the greater good is a value spanning countries and continents... and something we can all share and be thankful for.
****************************
A note from Ruds:

"Police and first responders are some of the most courageous people in this world. They are trained and called upon to run towards the danger, when many of us would be running the other way (to safety). They routinely put the safety of others, order, and peace above themselves, their families and sometimes their own beliefs. Having family in law enforcement and other first responder professions, and having close friends in the same fields, I am always in awe of the acts of bravery and selflessness I am witness to. I did not know Officer Ronald Tarentino, Jr. personally, but I am close to people who did. His tragedy hit home for so many, myself included. I can think of no better way to honor this hero and all of the people that run towards the danger, than by showing my support and asking others from our hobby to do so with me. I thank you all for your consideration and I thank Murphy & McNeil for their work on this collaboration and charitable donation.
A portion of the proceeds of this soap will be donated to the Officer Ronald Tarantino Charitable Fund as our way of saying thank you not only Officer Tarentino, but to our police and first responders everywhere."
****************************
Using Murphy and McNeil's sought-after duck/tallow formula, this limited release is sure to be an excellent addition to your summer shaving lineup while supporting an amazing cause.
Important: Air Delivery & International Guests
Alcohol based aftershaves cannot ship via air delivery.  Customers outside U.S. will automatically receive an alcohol free version to ensure a good shipping experience.  
Scent Profile

Scent Strength: Medium
Top: Mandarin, Grapefruit, Bergamot, Juniper
Middle: Rosemary, Sichuan, Rosewood
Base: Musk, Incense, Oakmoss
Notes: A citrus & marine aromatic meant to remind you of a fresh summer day, some may recognize this fragrance as an homage to "Light Blue Pour Homme" (no affiliation).
Shave Soap Ingredients

Soap Base: Aon (firm version)
Stearic Acid, Water, Beef Tallow, Duck Fat, Potassium Hydroxide, Kokum Butter, Menthol (Optional - White Jar), Castor Oil, Sodium Hydroxide, Shea Butter, Vegetable Glycerin, Coconut Milk, Kaolin Clay, Lanolin, Tocopheral, Fragrance, Tussah Silk.

4.0oz
A Video Announcement from Ruds
Video Reviews
Brand & Info:
Aon
BestSellers
Murphy and McNeil
Click here to join us as seller
Customer Reviews
24/08/2020
Igor U.

Russia
I recommend this product
Fine!
Very nice floral scent with good leather and natural ingredients!
19/05/2020
DG

Italy
I recommend this product
Very Good!
Nice aquatic scent and excellent performances!
11/05/2020
Arthur &.

United States
I recommend this product
Garda Siochana: a Ruds Shave Soap for a Cause
This was not my first Murphy & McNeil soap and it will not be my last. I scraped some into my lather bowl and proceeded to build a lather. As with other soaps, the first time use I'm cautious as to the amount of water to add so I did so a little at a time. It didn't take long before I had a creamy, fluffy, and very slick lather with a great scent as well. I'm very happy with the performance of the soap but even happier that it supports a great cause, Police and first responders. Additionally, I wish other artisans had free shipping regardless of the size of the purchase.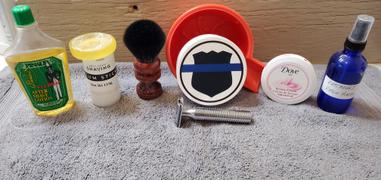 27/03/2020
Ray G.

United States
Great Product
Great Product
08/12/2019
Jeff

United States
First M&M Soap, not the last!
After reading so many reviews, I made a purchase of 4 M&M soaps. This was the first one I tried. The soap was more a firm base than I expected, a plus. The scent is amazing and is easy to get a great lather. As others have mentioned this soap takes a lot of water, causing it to have a very slick lather. I use the same soap for a week straight(my routine for 5 years), so I do get to learn it well. The aftershave splash is amazing as well, I will be purchasing more for sure! If you are on the fence about M&M shave soaps or this scent, buy, you will not be disappointed!