Description:
Galway Bay is a large bay on the west of Ireland, and it is home to a traditional fishing boat dubbed the "Galway hooker."  Hooker is a term that refers to a few different types of boats.  The largest of which is called the Bád Mór (Bad Mor), at 35 to 44 feet. These boats historically would carry bog turf to be used as fuel to heat homes in the nearby communities.  Today the boats can still be found racing across the bay, particularly at the annual festival of Cruinniú na mBád.
This Shaving Soap by Murphy and McNeil is composed of a mix of high quality oils and ingredients that create a dense, creamy lather for an excellent shave.  
Scent Profile:
Scent Strength: Light to Medium
Our take on a traditional Bay Rum
Top: Allspice, Clove, Orange
Heart: Nutmeg, Pine
Base: Patchouli, Vanilla
Ingredients:
Base:

 

Aon (Firm)
Stearic Acid, Water, Beef Tallow, Duck Fat, Potassium Hydroxide, Kokum Butter, Castor Oil, Sodium Hydroxide, Shea Butter, Vegetable Glycerin, Coconut Milk, Kaolin Clay, Lanolin, Tocopheral, Fragrance, Tussah Silk

5.5oz
 Video Reviews for Bad Mor
Additional Seller Info (if available):
Click here to join us as seller
Customer Reviews
02/01/2020
Jim K.
United States
I recommend this product
AWESOME SCENT WITH PLENTY OF SLICKNESS!
This is a FANTASTIC take on Bay Rum! A little dab in my scuttle provided me with ample lather, enough for 3-4 passes. The scent is delightful, with plenty of slickness for a close shave. The product itself isn't a hard soap, but more like a heavier duty cream. I bought the large container, which should last me a long time. I really love the M&M products. Plus, they provide EXCEPTIONAL customer service! You owe it to yourself to try this soap. Two very enthusiastic THUMBS UP!
14/11/2019
Todd P.
United States
I recommend this product
An Excellent Take on Bay Rum
The soap loaded very easily out of the tub, as with other products of theirs - and a slick, protective lather was easily produced. The scent of both soap and matching aftershave is lovely - lots of Allspice and clove up top, and it settles into a very nice, spicy and warm afterglow. I've just shaved an hour ago, so I can't comment on longevity, but it's a very nice scent that's definitely with me still. The post-shave face feel, too, is absolutely superb.
17/03/2019
Travis P.
United States
I recommend this product
Great start to St. Patrick's Day!
Shared this on damnfineshave's thread (What Soap/Cream did you use today?) before seeing M&M's review coupon email. Completely motivated by my own obsession with all things wet shaving. The coupon is just an after thought bonus. " Murphy & McNeil's "Bad Mor". A really great Bay Rum. I'll be honest, at first I wasn't a fan of the scent as I'm more inclined towards straight up Bay Rums or those that lean towards clove notes (blasphemy for some). After giving it a try, I pick up a semi sweet, almost fruity allspice and the lather is a moist, almost gooey, thick, and luscious lather. Made three passes worth with enough to probably have done fourth. So, far that's the most I've experienced of the limited amount of soaps I've used. I'm glad I gave it a shot and look forward to their Sláinte set, which I'm really anxious to try now."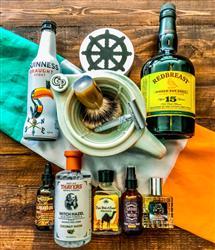 24/02/2019
Anonymous
United States
I recommend this product
Perfect All Around
Amazing customer service that fits in perfectly with an amazing product. I will definitely be a repeat customer!
I recommend this product
Top Notch Bay Rum !
I have tried many Bay Rum scented shaving soaps & creams through the years and I have to say that this is among the best ! It has the perfect balance, not too sweet and not too spicy ….. just right. My shaving experience with this soap is amazing. Plenty of rich thick lather that provides a perfect combination of cushion and also slickness. Post shave is top notch as well, and the scent lingers for awhile, which is nice. I absolutely recommend this shaving soap for all those who love the scent of Bay Rum, you won't be dissappointed !