Description:
In Celtic Lore, the Crann Bethadh symbolizes all of nature coming together in harmony.  Believing that trees were the ancestors of human beings, when new settlements were formed, a "Tree of Life" was left untouched (or planted) in the middle of the plantation.  This tree became a town center, for which assemblies, ceremonies, and other important meetings were held.  Much meaning was derived from the constant cycle of death, and rebirth of the sacred tree through the year's seasons.  To enemies, the cutting down of your rival's Crann Bethadh would render them powerless.
This Shaving Soap by Murphy and McNeil is composed of a mix of high quality oils and ingredients that create a dense, creamy lather for an excellent shave.
Scent Profile
Scent Strength: Medium
Top: Lemon, Verbena
Heart: Violet, Iris
Base: Sandalwood, Amber
Note: Some may recognize this scent as an homage to "Green Irish Tweed" (no affiliation).
Ingredients
Base:

 

Aon (Firm)
Stearic Acid, Water, Beef Tallow, Duck Fat, Potassium Hydroxide, Kokum Butter, Castor Oil, Sodium Hydroxide, Shea Butter, Vegetable Glycerin, Coconut Milk, Kaolin Clay, Lanolin, Tocopheral, Fragrance, Tussah Silk

5.5oz
 Video Reviews for Crann Bethadh
THIS PRODUCT IS SOLD AND SHIPPED BY:
Click here to join us as seller
Customer Reviews
08/09/2020
Jonathan
United States
I recommend this product
Excellent Soap with Perfect Scent
This is a great performing soap, and the scent is a very nice - one of my favorite cologne-type scents. It smells very fresh and has some high notes that I enjoy. I've never smelled Creed Green Irish Tweed, so I can't compare the scent to the cologne. When dialed in properly the soap should be almost like paste, and it takes on water very well. Initial slickness is excellent, but the residual slickness after you make your pass is not really there. That doesn't bother me though because I just add more lather using my brush. I would say the scent strength is about 5/10 on a scale, but I like that with my soaps. I always purchase the matching aftershave/splash because it generally has a stronger and longer lasting scent. The Murphy & McNeil aftershave is no exception here, as the lasts a few hours. In regard to the aftershave splash, I really enjoy the options to have alcohol or non-alcohol as well as the option to be mentholated. This is one of my favorite soaps in my collection!
22/04/2020
james a.
United States
I recommend this product
Best in my den
I have around 30 soaps in my den at any given time with over 20 different makers. And this soap base has beaten out all my other brands like PAA-CK6 and Nobel Otter. I've been keeping track of my shaves with the ShaveBuddy app and M&M is currently sitting #1. I'm a matcher, so I have to a soap, splash, balm and cologne of a certain scent regardless if their the same brand. I like the fact that I can get everything from one company.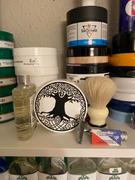 08/03/2020
Anonymous
United States
GREAT PRODUCT
GREAT PRODUCT
Like it
Very nice shaving soap... its been long time since i've been so exited while shaving. great slickness nice low fractured lather.. scent Strength is barely perceptible, should be stronger
Crann Bethadh
I continue to be impressed by M&M soaps. Their performance is top notch, both in shave and post shave. The Crann Bethadh is one of my favorites. Not only does it exhibit the aforementioned performance but the scent is wonderful. If you like Green Irish Tweed, you'll love this soap.