Description:
The Triskele, or triquetra is a symmetrical triple spiral design.  It is a symbol with a long pre-celtic history, versions of which are used today (try a search for the symbol of Sicily, or for the symbol of the U.S. Department of Transportation.).  Versions of the symbol have been found in prehistoric rock from long before the arrival of Celts in Ireland.  Much like the Trinity, in Celtic Christianity the triskele took on the meaning of Father, Son, and Holy Spirit.  While also representing the nature of live/rebirth and eternity with it's ever spiraling extremities.
This Aftershave Splash by Murphy and McNeil combines exceptional ingredients to provide an excellent post-shave feel and scents that linger.  Be sure to choose your preferences from the available list including with/without alcohol and with/without menthol.
Important: Air Delivery & International Guests
Alcohol based aftershaves cannot ship via air delivery.  Customers outside U.S. should choose our alcohol free version to ensure a good shipping experience.  Air Orders shipping outside U.S.A. will receive our alcohol free variant.  U.S.A. orders with air delivery selected will be downgraded to ground.
Scent Profile:
Scent Strength: Medium
Our take on a traditional barbershop
Ingredients:
Alcohol Splash:  Alcohol Denat - Isopropyl Myristate - Witch Hazel - Water -  Aloe - Vegetable Glycerin - Silver Dihydrogen Citrate - Citric Acid - Fragrance - Menthol or Koolada-23 (Optional) - Polysorbate 20 - Glucam P-20 
Alcohol Free Splash: Witch Hazel - Water - Aloe - Vegetable Glycerin - Silver Dihydrogen Citrate - Citric Acid- Fragrance -

Menthol or Koolada-23

 (Optional)

- Polysorbate 20
100mL / 3.4 fl oz
THIS PRODUCT IS SOLD AND SHIPPED BY:
Click here to join us as seller
Customer Reviews
18/03/2020
Chris D.
United States
I recommend this product
Excellent Feel and Scent
I ordered the version of Triskele with alcohol and menthol. What a great combination! Feels great on my face. Love the cooling sensation. Of course that Triskele scent is fantastic. The wife really likes it too. Highly recommended.
10/04/2019
Erick M.
United States
I recommend this product
Awesome scent
I love all the Murphy and McNeil products. I was happy to purchase this soap as well as the matching aftershave splash. If you like the barbershop scent, then I recommend this product. I like the sleek look of the bottle and the scent strength of the splash as well. I recommend without no questions.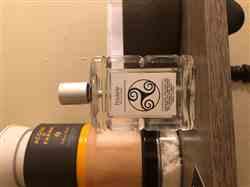 My new Daily Driver
Many customization options are available for these splashes, regarding alcohol and menthol contents. I elected for zero of either because I have sensitive face skin. See my Triskele soap review for my explanation of the scent... The splash I was able to detect more cloves, which is a scent I love. With no alcohol or menthol, this is more of a relaxing skin food. There was no burn after application. One thing I really like about this splash is that when the bottle has sat undisturbed for a while, some of the ingredients will start to separate from mixture... This says to me its a natural mixture of good ingredients with no artificial **** holding it all together. Quick shake and its all blended back together in harmony. My previous everyday splash was B&M Reserve Cool, but it ran empty, so now its this! Folloed by Proraso Blue 20 minutes later.