Product Details:
Description
@johp3r, John Perry, & @xicano_design, Rafa in collaboration with Bill Graham of Murphy and McNeil present to you the re-release of Barbershop De Los Muertos.
For those that follow John and Rafa you've seen the work, love for life, and love for this shaving hobby. It's a mutual respect from two guys who are similar yet so different.  The original BDLM was very well received by the community, but sold out fast leaving many wishing they had a better chance at winning this edition for their den.  This re-release is meant to bring BDLM back to the masses so everyone will have a chance at this great set.  
The aftershave is Murphy and McNeil's latest formula and will definitely kick the fragrance experience up a notch!
The scent on this set is inspired by Amouage XXV for Men, and is a citrus-forward accord that settles into a fantastic woody/musky base.
 ****************************
 Scent Profile
Scent Strength: Medium
Top: Cistus labdanum, Coriander, Orange, Davana, Frankincense, Blackberry
Middle: Honey, Bay, Cinnamon, Orchid, Rose, Clove, Celery seed, Gaiac wood
Base: Patchouli, Opoponax, Myrrh, Atlas cedarwood, Musk, Moss, Ambergris, Oud wood, Immortelle
Notes: Some may recognize this fragrance as an homage to "Jubilation XXV Man" by Amouage (no affiliation).
Shave Soap Ingredients
Base:

 

Aon (Firm)
Stearic Acid, Water, Beef Tallow, Duck Fat, Potassium Hydroxide, Kokum Butter, Castor Oil, Sodium Hydroxide, Shea Butter, Vegetable Glycerin, Coconut Milk, Kaolin Clay, Lanolin, Tocopheral, Fragrance, Tussah Silk

4.0oz / 0.5oz Sample
Videos from Friends
First Shave with BDLM by IAMCDB

YouTube Channel: CLICK HERE
Barbershop De Los Muertos with SoSharpDavid
Youtube Channel: CLICK HERE
Brand & Info:
Aon
BestSellers
Murphy and McNeil
Click here to join us as seller
Customer Reviews
05/09/2021
Anonymous

United States
Must have.
Fantastic soap. Legendary scent. Top notch service. Recommended.
28/04/2021
Fernando M.

United States
Winner
Fantastic soap all-around!
28/02/2021
Robert S.

United States
22/02/2021
R. J

United States
Barbershop De Los Muertos ( Kodiak Base) Review
Grade A level service. Great communication Bill went above and beyond to email me my tracking info and insured my ordering process executed smoothly. Arrived quick and prompt no problems whatsoever. The Barbershop De Los Muertos has a phenomenal scent, and this is from someone who barbershop scent is usually not in my wheel house. A complex scent that is more than just barbershop profile. Shave performance was exceptional, first time using the Kodiak base. Very slick and nourishing on the skin which enhanced shaving experience. Great post-shaped feel...top notch.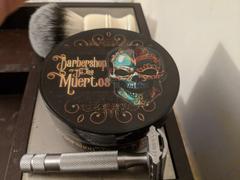 04/02/2021
J R.

United States
Interesting Scent
This soap has an interesting scent. It's is a mid strength scent but it is intoxicating. I usually change my soaps everyday, just to have a different scent experience. But when I received this I was so interested in the smell that I used this soap everyday for a week. As for performance it was outstanding. No irritation and good post shave feel. It is worth buying. It is a manly barbershop scent.