TalDescription:
Pronounced somewhat like Cawt-shee, in Celtic lore that Cat Sidhe (Fairy Cats) were spirit realm creatures who took the form of large black cats with white spots on their chest.  Usually feared, there are also stories of the cats bringing good fortune. 
The symbol of the black cat has spanned ages.  The pilgrims at Plymouth Rock considered black cats to be part demon and part sorcery, and to own one could cause serious punishment.  Today still, the black cat is synonymous with Witchcraft, shape changing, and bad luck.  
Do you dare?
This Shaving Soap by Murphy and McNeil is composed of a mix of high quality oils and ingredients that create a dense, creamy lather for an excellent shave.
Scent Profile:
Scent Strength: Light to Medium
Top: Bergamot, Mandarin
Heart: Neroli, Orange
Base: Amber
Note: Some may recognize this scent as an homage to "Neroli Portofino" (no affiliation).
Ingredients:
Base:

 

Aon (Firm)
Stearic Acid, Water, Beef Tallow, Duck Fat, Potassium Hydroxide, Kokum Butter, Castor Oil, Sodium Hydroxide, Shea Butter, Vegetable Glycerin, Coconut Milk, Kaolin Clay, Lanolin, Tocopheral, Fragrance, Tussah Silk

4.0oz
 Video Reviews for Cat Sidhe:
THIS PRODUCT IS SOLD AND SHIPPED BY:
Click here to join us as seller
Customer Reviews
21/01/2020
Matt D.
United States
I recommend this product
Wonderful Scent, Excellent Performance
I love the Aon base. This base produces a low structure, super slick, super luxurious lather. Feels like it's giving your face a hug. No need for post shave products, but I love the scent so much, I want it to stay with me. Bottom line, one of my favorite scents in the den.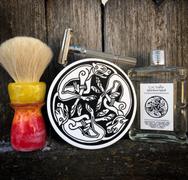 03/01/2020
Eduardo J.
United States
I recommend this product
Shave soap review
Excellent soap, great post feel, GREAT lather, and very good price.
19/12/2019
Francisco D.
Chile
Lucky cats
First experience with M&M and definitively a fantastic debut. The concept of folcklore and mythology, the lovely art (quite reminiscent to King Crimson's discipline, not in this soap particular: M&M in general), and the performance just perfect! Excellent cushioing and slickness, great scent (quite mild) Tested with Mühle r41, soon will be tested with a straight razor. Razors up for this lucky cats!
10/10/2019
RWN
United States
Thumbs up
I have been using Cat Sidhe for other a month now, for perhaps a dozen shaves, and I can whole-heartedly endorse this shaving soap. I like to use the aggressive razors with very sharp blades and I am getting very smooth clean shaves. The scent is light and that suits me well
Meh..
Had high hopes based on what I had read. But...I was quite disappointed. Didn't really deliver on cushioning, protection or slickness. Post shave was pretty good. Overall...the base needs work if you're going to compete with the Grooming Departments, Barristers and Tallow +Steels of the world..