Description
@johp3r, John Perry, & @xicano_design, Rafa in collaboration with Bill Graham of Murphy and McNeil present to you the Gael Laoch release.

For those that follow John and Rafa you've seen the work, love for life, and love for this shaving hobby. It's a mutual respect from two guys who are similar yet so different. This Gael Laoch release is a follow up to BDLM, Barbershop De Los Muertos, which was a small release done last year that was very well received and had many people wishing they got in on it. When the time came to plan another release they had this scent on their mind and knew exactly the artisan to do it. The fact that everything ties together so well is no accident either.

Murphy and McNeil, with their affinity for Irish/Scottish history and symbolism, has been producing arguably one of the top tier soaps for a little while now. This made it more than easy to ask Bill for a collaboration on this set. The time has come.

The Norse–Gaels were a people of mixed Gaelic and Norse ancestry and culture. They emerged in the Viking Age, when Vikings who settled in Ireland and in Scotland adopted Gaelic culture and intermarried with Gaels. The Norse–Gaels dominated much of the Irish Sea and Scottish Sea regions from the 9th to 12th century. Bad asses are the ones who survived and thrived.

Gael Laoch is a set in tribute to those who get up each day and conquer. For some it is those that serve and protect us and our way of life. It is also those that show up daily and work hard in their day to day life. They are your friends, family, coworkers, and strangers.

Warriors in the simplest form and those that you count on, even when you don't realize it.

The scent on this set is inspired by Creed Viking and is one that will evoke these feelings in us all.
 ****************************
Using a NEW modified version Murphy and McNeil's sought-after duck/tallow formula to provide greater firmness to our soap,  this limited release is sure to be an excellent addition to your summer shaving lineup while supporting an amazing cause.  
Scent Profile
Scent Strength: Light/Medium
Top: Bergamot, Lemon, Pepper
Middle: Pepper, Rose, Peppermint
Base: Sandalwood, Vetiver, Patchouli, Lavandin
Notes: An aquatic accord with hints of zesty citrus and fresh/green mint, some may recognize this fragrance as an homage to Creed's "Viking" (no affiliation).
Shave Soap Ingredients

Base: Aon (Firm)
Stearic Acid, Water, Beef Tallow, Duck Fat, Potassium Hydroxide, Kokum Butter, Menthol (Optional - White Jar), Castor Oil, Sodium Hydroxide, Shea Butter, Vegetable Glycerin, Coconut Milk, Kaolin Clay, Lanolin, Tocopheral, Fragrance, Tussah Silk

5.5oz
Video Reviews for Murphy and McNeil: Gael Laoch
Additional Seller Info (if available):
Click here to join us as seller
Customer Reviews
13/07/2020
Antonio V.
Croatia
Great performance, cool design and a terrific scent.
Great performance, cool design and a terrific scent.
08/03/2020
Anonymous
United States
GREAT PRODUCT
GREAT PRODUCT
14/02/2020
Christian W.
Sweden
Wow , just wow !
I bought a set from Murphy & McNeil over to Sweden for the first time . I fell in love with the artwork for Gael Laoch , and the scent description. I must say this is top notch ! What a great feeling against the skin , the razor just glide on my skin and it feel so nice after ! I bought after shave splash and balm , but the skin feel so great just after the soap :) Just figure how it feels like after the splash and balm ! I have now two sets from M&M , and I will now buy two more ! Top brand !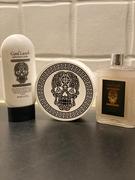 14/02/2020
Andrew M.
United States
Gael Laoch. Perfection.
This was my first purchase of an M&M soap. I have to say, I never leave reviews, but I felt compelled to leave one for this soap. Being a huge Creed Viking fan, I was blown away by the similarity of the scent profile in this soap. Loading a brush is super easy, and the lather just explodes into a dense, creamy, cushioned consistency in my Georgetown Pottery scuttle. The packaging and artwork are some of the best I've ever seen. Free shipping is an awesome bonus as well. Super, super pleased with this product. Keep up the great work M&M!
15/09/2019
Timothy T.
United States
Gael Laoch (aka "Creed Viking")
What a wonderful scent and set! I was lucky enough to receive a sample from a friend of the soap and splash, and knew I had to have that full set, including the EDP. The EDP has good projection and sillage, and the atomizer is one of the best I've seen, fantastic distribution! The soap base is creamy and luxurious, and whips up into a nice, low-structure lather in no time. The splash is one of the best I've used, really enriching the skin but still containing that nice splash burn. Though you're approached with the initial alcohol scent, that quickly fades into that Creed Viking DNA.