Product Details:
Description
 It's funny how sometimes the most vivid aspect of a memory can be one of the simplest.  I was very young when the only grandfather I've known passed away.  I can't tell you about any of the conversations we had, but I remember that my own father always seemed to be laughing when he was around.  I picture a very dry sense of humor, cracking jokes and leaving my dad in stitches.  I remember fishing!  He had a house near the ocean, and we would motor out and we'd hang hand lines off the side of the boat.  He always had his pipe.  My grandfather had a den downstairs with a small TV, and his chair... The fragrance of that pipe, that den, is what I remember more vividly than anything.  Right or wrong... to my memory... "Old Sport" is that fragrance.  Old Sport is not a tobacco scent per se, but it will remind you of one.  Tonka is a wonderful fragrance with a complexity of notes that will remind you of a very sweet tobacco.  For me, it brings me back to one of the most vivid memories I have of my gramps.
 ****************************
Scent Profile

Scent Strength: Medium
Top: Almond
Middle: Myrrh
Base: Tonka, Vanilla
Shave Soap Ingredients
Base:

 

Aon (Firm)
Stearic Acid, Water, Beef Tallow, Duck Fat, Potassium Hydroxide, Kokum Butter, Castor Oil, Sodium Hydroxide, Shea Butter, Vegetable Glycerin, Coconut Milk, Kaolin Clay, Lanolin, Tocopheral, Fragrance, Tussah Silk

4.0oz
Video Reviews for Old Sport
Brand & Info:
Aon
BestSellers
Murphy and McNeil
Click here to join us as seller
Customer Reviews
20/08/2021
Daniel M.

United States
I recommend this product
A comforting and familiar scent
This soap exactly like the description and then some. My grandfathers didn't smoke but somehow I still really connect with this very comforting scent. Because they didn't smoke it doesn't really remind me of tobacco, although I see how it would, but instead makes me feel grounded and comforted and definitely still somehow reminds me of my grandfathers. The scent is very creamy and deep. My only "complaint" is that the scent is rather light. I like it so much I want more but I don't know if a stronger smell would ruin the effect though. The performance is amazing as always from this company!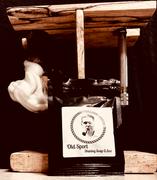 16/11/2020
Rob

United States
I recommend this product
A step above the rest
This was my first purchase of MM shaving soap and have nothing but the highest praise for Bill and his team of artisans. First; the creamy lather, consistency, cushion, glide & sustain are second to none. Second; the scent of Old Sport brought me back to the very moment my Dad brought me to Henry's Barbershop on the first day of school summer vacation around 1970. Others have come close, but Old Sport put me in Henry's barber chair - 1st chair closest to the window, next to the bubble gum always stocked with chiclets. Bill, you nailed it. Thank you.
14/10/2020
Michał ..

Poland
10/09/2020
JB

United States
I recommend this product
Fabulous Nostalgic Scent
I'm not a pipe smoker, but my father was for a time and I loved the smell of the pipe smoke. I've tried other tobacco scents and they seem to focus on the smell of tobacco leaf and not necessarily the fragrant pipe smoke. This scent captures what I recall as many of the notes from the pipe smoke without being overwhelming. The soap's performance was outstanding as usual.
02/09/2020
Mike P.

United States
I recommend this product
An Awesome "Grown-up" Smell
I will start by saying this base took a little more trial and error than the regular base. The water requirements were a bit different and it took some experimenting to get right. That is the closest thing to a negative and may not be an issue for others. The smell is now one of my favorites. It is deep and rich despite the seemingly limited ingredient list. It was a very warm and masculine scent without being edgy or spicy. The words that come to mind are mature, dependable, and confident. It quickly became one of my favorites. It also became one of my wife's favorites. She loved getting close to smell the scent. It works well for any occasion short of a black tie affair. From a job interview to date night, Sunday morning church, or just hanging out with friends on a Saturday afternoon the scent is appropriate. It is relaxed enough to be widely acceptable, but deep and warm enough to still get respect from executives. (I had a department chair ask me what I was wearing.)